Ed is the art world's version of a celebrity. In the 1970s he directed two short films: the very witty "Premium" and "Miracle"… the story about a curious day in the life of an auto mechanic. Ruscha has even given acting a shot. He played a radio station director in the film Choose Me. Movie industry heavyweights Jack Nicholson, Steve Martin and Dennis Hopper have Ruscha originals on their walls. Mick Jagger hangs out in Ed's studio.
Ruscha's iconic paintings of the Hollywood sign are emblematic of his own fame. It's propped up, paper-like and it's aligned in the same respect as much of Ed's work. But the only reason he painted it in the first place is because it was staring at him out the back window. "I had to do it because it was there," he quips. Ruscha's California catalogue is extensive and important. His paintings have mapped, plotted and given perspective to L.A. streets and sections. His numerous photography books about palm trees, swimming pools, parking lots and apartment complexes in Los Angeles established him as a conceptual leader in the industry.
Then & Now
shows the evolution of Hollywood Boulevard from 1973 to 2004 and looks at change the way an anthropologist would. He took pictures of every building on the Sunset Strip and turned it into an accordion book. "I like the idea of patching it all together and making a single picture out of it, almost like a ribbon or a strip of something," Ruscha says. "That's why I always appreciate a roll of toilet paper. It all hangs together and yet it's all a part of one thing."
Sometimes he admits he wants to flush Los Angeles down the ole commode. It's a love-hate thing where the pendulum swings back and forth between the fascination and the frustration of living in such a big and diverse city. Similarly, the choice to set up shop in sunny SoCal has been a blessing and a curse for his career. "There's no artist associated with the sixties and Los Angeles who better epitomizes Hollywood in the visual art world than Ed Ruscha," according to Paul Schimmel, Chief Curator at the Museum of Contemporary Art Los Angeles. "It's central and in some ways a detriment to a broader understanding of the complexities of his work. For many, up until recently, he was the Hollywood pop artist. Pop art and the myth of Hollywood trapped people's understanding of who Ed Ruscha is."
Ruscha was thumbing through the pages of a magazine when he saw a tiny reprint of Jasper Johns'
Target With Four Faces
. The painting was premeditated and symmetrical and Ed was floored. "It just went counter to everything that people were talking about in school. It was not just a target. It had faces. It was something immediately recognizable coupled together with something that was totally mysterious." Robert Rauschenberg's "combine paintings" gave Ed that same kind of hope. "I began to see that there were some artists who were doing something that perplexed me and moved me towards a career in fine art." With a newfound purpose, Ruscha began sticking fabric and parts of comic strips on his canvases. He also began experimenting with words and painting common objects like pencils and school supplies. The representational shift quickly turned to popular subject matter, and Ruscha soon found himself riding the initial wave of American pop art.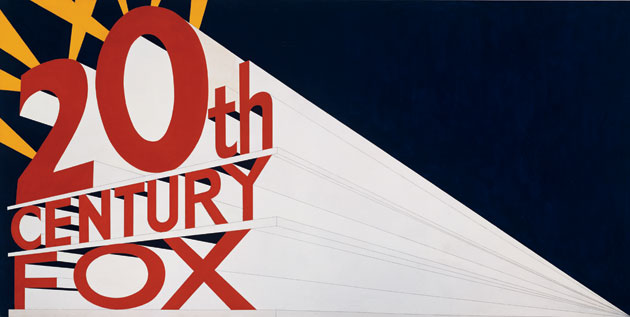 At eleven feet wide, Ruscha's
Large Trademark with Eight Spotlights
is a major statement about the relevance and importance of the movie industry in pop culture. The 20th Century Fox commercial logo flies onto the screen and boldly announces the beginning of a motion picture. Ed wanted his art to provide that same kind of experience. "I always liked as a kid watching movies where there'd be an empty landscape and you'd hear a train coming, but you didn't see it. Then way in the far right hand corner you'd see this train. Within seconds it was filling the screen going from lower right to upper left. Well the 20th Century Fox logo is doing the same thing. It opened up an avenue in my mind to create pictures along these lines."
Source
Picture Source